Recensie Friesch Dagblad
"The Houdini's en Van Deursen hebben met de muziek van Woodstock als kapstok een mooi programma gemaakt waarin pop wordt omgetoverd tot jazz"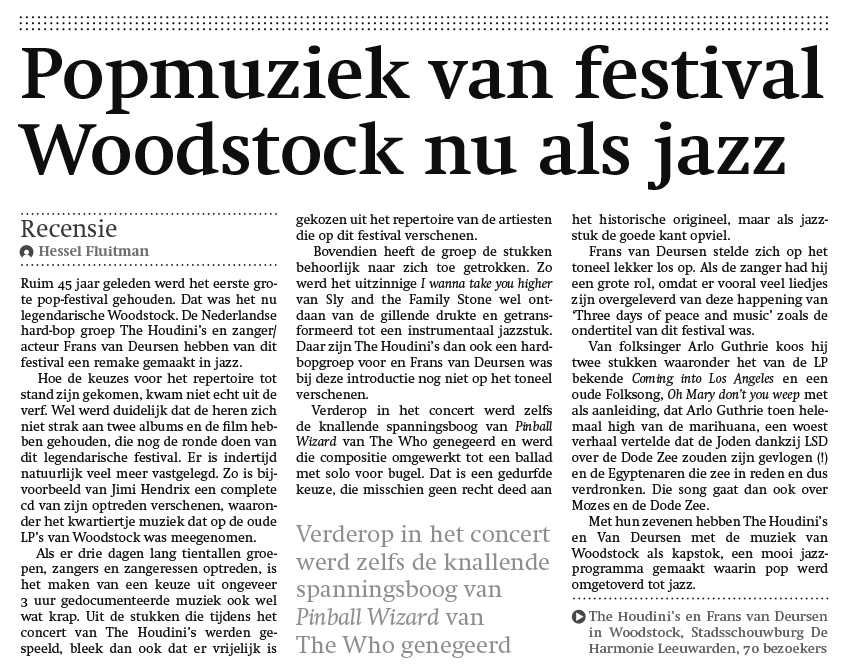 The Houdini's & Frans van Deursen play Woodstock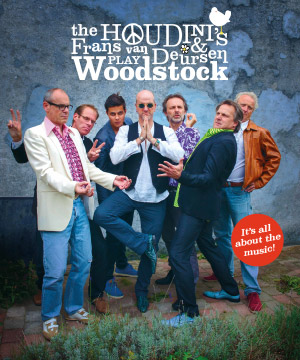 Valt er aan Woodstock, dat geldt als een van de belangrijkste en bekendste evenementen in de geschiedenis van de hippiecultuur en popmuziek, nog iets toe te voegen of af te stoffen? De Houdini's denken van wel!

In meedogenloze bewerkingen van de muziek van Jimi Hendrix, Country Joe & The Fish, Jefferson Airplane, Santana én de mindere goden brengen de Houdini's samen met acteur en zanger Frans van Deursen een tribute aan dit legendarische festival.

Zonder de modder en geestverruimende parafernalia, maar mét de energieke aanpak waar de Houdini's om bekend staan. Dus dat zit goed. Peace and Love zullen ze niet preken, maar omdat Frans van Deursen ook niet het 'lauwe type' is, is wel het fraaie woord 'synergie' van toepassing. "Woodstock is like, you know, it's about synergy, man!"

It's all about the music! Lijnen worden ontrafeld, harmonieën toegevoegd of onverwacht weggelaten, maar de 'harde kern' blijft gehandhaafd.

De Houdini's are Jazzin' up the Age of Aquarius. Woodstock zoals je Woodstock nog nooit hebt gehoord. Peace, man!



| | |
| --- | --- |
| Play | Interview Frans van Deursen |
1. Hoe komen jullie op het idee een heel festival te verwerken in een concert?
Woodstock staat symbool voor de periode van "love & peace" en geldt als één van de belangrijkste en bekendste evenementen in de geschiedenis van de hippiecultuur en popmuziek.
In deze tijd waarin Conformisme Koning is, waar het vreemde en onbekende het liefst uit de voortuin wordt geweerd, waarin burgers die zich Kunstenaar noemen verdacht worden gemaakt door hun Bestuurders, waarin iemand die buiten de lijntjes kleurt kan rekenen op scheve blikken, waarin het Geld de Verbeelding steeds meer in een hoek drukt – in zo'n tijd is het juist goed om ons weer eens terug te denken aan de Hippies. Aan jonge mensen die het lef hadden het allemaal anders te doen. Er idealen op wilden nahouden. Tegen de stroom in durfden te zwemmen. Vrijheid in plaats van zekerheid nastreefden. Een alternatief voor Broekrokken en Stropdassen leverden. We brengen een Ode aan de vrije geesten. Aan de fantasie. Juist nu.
2. Jullie vroegen Frans van Deursen mee te doen. Heeft hij een speciale band met de muziek en hoe verhoudt hij zich tot de Houdini's?
Volgens Volkskrantrecensent Patrick van de Hanenberg is Frans van Deurssen "al jaren één van de smaakmakers van het Nederlandse muziektheater, met theater in het bloed en muziek in het hart". Frans (zelf van de Generatie (Ni)X, maar jongste broer van twee die hard hippies die het Kralingse Bos nog hebben meegemaakt), beweegt zich inderdaad al jaren op eigenzinnige wijze door het muziektheaterlandschap. Zijn vertolkingen van Frank Zappa's Joe's Garage, zijn brutale vertalingen van het werk van Tom Waits, zijn rockopera Harry Faust en zijn rake Judas in de Judas Passion vormden voor de Houdini's de logische aanleiding om de samenwerking met deze creatieve duizendpoot aan te gaan.
3. Ik ben erg benieuwd naar de arrangementen. Hoe heb jullie dat aangepakt?
Geheel in de traditie van de jazz incorporeren de Houdini's classics uit het populaire genre en vertalen het Woodstock-repertoire naar ons eigen idioom.
Denk bijvoorbeeld aan
Guinevere
van Crosby Stills & Nash in een Davis-achtige birth of the cool bewerking,
How Can We Hang On To A Dream
in een 5/8 met een drumfeature,
Feel Like I'm Fixin To Die
in een uptempo, of
I Want To Take You Higher
van Sly & The Family Stone in een funk bewerking met een Questlove groove.

The Houdini's celebrating their 25th anniversary with a best of album and release concert!

Next Saturday, on March 23rd The Houdini's will present their new best of cd The Houdini's In Time in Bimhuis Amsterdam.

The cd is an overview of 25 years of history : 12 own albums and 7 albums produced in cooperation with artists like Frank Boeijen, Trijntje Oosterhuis & Sinfonietta Amsterdam, Gino Vannelli, the Jazz Orchesra Of The Concertgebouw, Jacob ter Velthuis and Kim Hoorweg. Music Connoisseur Ruud Meijer compiled 14 tracks for an excellent overview from the past 25 years, uncluding 4 live recordings and 2 tracks with Kim Hoorweg. Headlines - that's what the Dutch hard bop sextet The Houdini's made in the national and international jazz press after having played the prestigious 1989 North Sea Jazz Festival. The authoritative American jazz magazine DownBeat even proclaimed them 'equals of the young jazzers of New York', words of praise summing up their capabilities rather nicely. Re-evaluating that first album and their sophomore effort Headlines, the 21st century jazz buff really gets a blast from the past. The Houdini's played hard bop as if they had invented the genre – and they still do so.

By the mid nineties the Houdini's performed all over the globe. During their tour of Australia and Tasmania they played 21 gigs in a month's time. To give an impression of their electrifying performances down-under we included three no-nonsense live tracks recorded on that tour. During their release concert The Houdini's will play new repertoire combined with pieces from their 25 years history, which has always been the ambition of The Houdini's, who never sound like a broken record. No matter whether they are considered icons or not, their music is still bursting at the seams with energy. So not 'grey, bald and slowed-down', but 'grey, bald and fully into it'.

Where and when
Saturday, March 23, 20:30 hr
Bimhuis
Piet Heinkade 3
1019 BR Amsterdam

Tickets are € 18,- and available at Bimhuis