Unleashed and remixed
This email address is being protected from spambots. You need JavaScript enabled to view it.


Angelo Verploegen - trumpet & flugel | Rolf Delfos - alt- & soprano saxophone | Ilja Reijngoud - trombone | Erwin Hoorweg - piano | Marius Beets - bass | Bram Wijland - drums.


Recorded & produced by Phil Martin at Studio de Smederij, Zeist


It was in the beginning of the 90's that I started to get interested in jazz music. I began listening to all this Blue Note classics by Art Blakey, Hank Mobley and Donald Byrd. I was also looking for live music in different jazz clubs but almost every concert was a disappointment. The Dutch jazz musicians weren't into the hard bop sound I liked. I gave it one more try with this new group called The Houdini's. I read their story and they had just recorded an album with the famous Blue Note producer Rudy Van Gelder. The man with the sound I loved so much. Well, they blew my mind! What power, what energy! The Houdini's showed me that jazz was all about fun. This was the live sound I had been looking for. These guys were like a rock 'n roll band playing jazz. I have been a fan ever since and they have kept growing and developing their music, releasing other great albums. In 2001 I started doing some gigs with them and I formed The Jazzinvaders with two of the members. In 2007 we got together to work on a project together. You're now looking at the result. An album on which we wanted to go back to the Houdini's roots. I think we succeeded in getting that powerful energy of their great live sound on tape. To make this project even bigger I asked a couple of my favourite producers to give their interpretation of the tracks. What a big surprise! It shows that the material of the Houdini's is funky, danceable and irresistible.


PHIL MARTIN APRIL 2007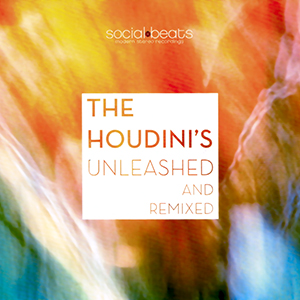 | | | |
| --- | --- | --- |
| Play | 1. | Catch 22 Hot |
| | | (Phil Martin Remix) |
| Play | 2. | My Lost Hand Crumbles |
| | | (Eddie Roberts Remix) |
| Play | 3. | Fat Groupie |
| | | (Lack of Afro Remix) |
| Play | 4. | Blue Ribbon Jury |
| | | (Buscemi Remix) |
| Play | 5. | Orvathology |
| | | (Natural Self Remix) |
| Play | 6. | No More Yesterdays |
| | | (Gianni de Luca Remix) |
| Play | 7. | The Emergendizer |
| | | (Aiff Remix) |
| Play | 8. | Brad's Feast |
| | | (Nostalgia 77 Remix) |
| Play | 9. | Unleased |
| | | (Solo Moderna Remix) |
| Play | 10. | Hybrid |
| | | (Diesler Remix) |