Strange Fruit - Trijntje Oosterhuis
This email address is being protected from spambots. You need JavaScript enabled to view it.


Angelo Verploegen - trumpet & flugel | Rolf Delfos - alt- & soprano saxophone | Ilja Reijngoud - trombone | Erwin Hoorweg - piano | Marius Beets - bass | Bram Wijland - drums.


Recorded by John Kriek & paul Power Concertzaal Tilburg & Stadsgehoorzaal Leiden
Mixed by: Paul Power
Recording date: 7 & 8 january 2003


Live with Trijntje Oosterhuis and the Amsterdam Sinfonietta. Featuring favorite songs of Billy Holiday & George Gershwin arranged by the Houdinis.


During 2003 The Houdini's made a tour with Trijntje Oosterhuis and the Amsterdam Sinfonietta with the music of  Billie Holiday and George & Ira Gershwin.


The concerts were recorded the January 7, 2003 concert in the Concertzaal in Tilburg and the January 8, 2003 concert in Stadsgehoorzaal in Leiden.


The album was named after Billie Holiday's song "Strange Fruit", has been certified two times Platinum and peaked at number 2 on the Dutch album charts.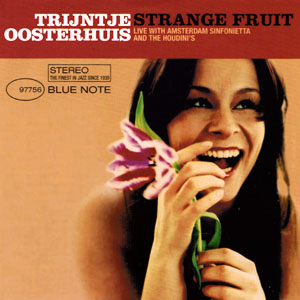 | | | |
| --- | --- | --- |
| Play | 1. | Good Morning Heartache |
| | | (arr. Hoorweg / Delfos) |
| Play | 2. | Am I Blue |
| | | (arr. Hoorweg / Delfos ) |
| Play | 3. | God Bless The Child |
| | | (arr. Hoorweg / Delfos) |
| Play | 4. | All Of Me |
| | | (arr. Hoorweg / Delfos) |
| Play | 5. | Don't Explain |
| | | (arr. Niko Ravenstein) |
| Play | 6. | Billie's Blues |
| | | (arr. Hoorweg / Delfos) |
| Play | 7. | Strange Fruit |
| | | (arr. Hoorweg / Delfos) |
| Play | 8. | What A Little Moonlight Can Do |
| | | (arr. Hoorweg) |
| Play | 9. | I Loves You Porgy |
| | | (arr. Beets) |
| Play | 10. | They Can't Take That Away From Me |
| | | (arr. Beets) |
| Play | 11. | The Man I Love |
| | | (arr. Reijngoud) |
| Play | 12. | Summertime |
| | | (arr. Hoorweg / Delfos) |
| Play | 13. | I've Got Rhythm |
| | | (arr. Hoorweg) |