Porgy & Bess Suite
This email address is being protected from spambots. You need JavaScript enabled to view it.


Angelo Verploegen - trumpet & flugel | Rolf Delfos - alt- & soprano saxophone | Barend Middelhoff - tenor saxophone | Erwin Hoorweg - piano | Marius Beets - bass |Bram Wijland - drums.
& New Sinfonietta Amsterdam


All selections arranged by van den Brink


Recorded at Muziekcentrum Vredenburg, Anton Philipszaal, Muziekcentrum Frits Philips, Holland
Recording date:5/7 february 1995


For many years, Richard Dufallo has been considered as one of America's most important proponents of 20th century music. He has gained wide acclaim with his innovative programs combining old and new music. He made his European debut in 1970 in Paris with the ORTF. Since then he has conducted orchestras including the Royal Concertgebouw Orchestra, the Rotterdam Philharmonic, the Berlin Philharmonic, and the London Symphony Orchestra. At one time he was also chief conductor of the Orchestra of Gelderland. In 1993, Richard Dufallo gave a series of concerts with the Netherlands Wind Ensemble, performing works by Copland, Gershwin, Stravinsky, and Bernstein. His international publication, Trackings: Composers Speak with Richard Dufallo includes conversations with 26 prominent composers.


The Nieuw Sinfonietta Amsterdam was founded in 1988 by a group of musicians, all of whom shared a deep love of chamber music. Their goal was the creation of a chamber orchestra which would be able to attain the highest possible level of ensemble playing. In the ensuing years, the Nieuw Sinfonietta Amsterdam has created its own very special niche in Netherlands musical life. The highly personal string sound, the enthusiasm and commitment of the musicians, and the high artistic level of the performances have all contributed to the orchestra's recognition. There have also been successful tours to the United States, Germany, Italy, France, Spain, and the former USSR. Future plans include tours in Scandinavia, Germany, and England. Guest conductors have included Thomas Zehetmair, Reinbert de Leeuw, Jos van Immerseel, and Iona Brown. Soloists have included Hakan Hardenberger, Yo Yo Ma, Jard van Nes, Roland Pntinen, and Nobuko Imai.


The somewhat peculiar name The Houdinis stands for a most exciting and dynamic Dutch jazz sextet. The Houdinis conluded a Dutch concerttour with the recording of their debut album Live At Paradox. The success of this recording and their live performances got The Houdinis every year at the prestigious North Sea Jazz Festival. This is where jazz critic Michael Bourne heard The Houdinis, reviewing in Down Beats November 1991-issue: The Houdinis, as good a band of young jazzers as the young jazzers of New York. Many more tours and recordings followed, some of them at the legendary Rudy Van Gelder studio in New Jersey. The title track of their second album Headlines became a hit on New Yorks 24-hour jazz station WBGO. In April 1995 The Houdinis received the annual Golden Nutcracker Award from the Dutch Musicians Union.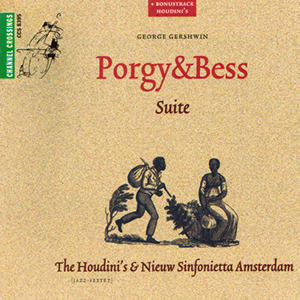 | | | |
| --- | --- | --- |
| Play | 1. | Clara 5 |
| | | (Gershwin / Gershwin) |
| Play | 2. | I Loves You Porgy |
| | | (Gershwin / Gershwin) |
| Play | 3. | Summertime |
| | | (Gershwin / Gershwin) |
| Play | 4. | My Man's Gone Now |
| | | (Gershwin / Gershwin) |
| Play | 5. | Fuga Blues |
| | | (Gershwin / Gershwin) |
| Play | 6. | Buzzard Song |
| | | (Gershwin / Gershwin) |
| Play | 7. | It Ain't Necessarily So |
| | | (Gershwin / Gershwin) |
| Play | 8. | Bess, You is My Woman Now |
| | | (Gershwin / Gershwin) |
| Play | 9. | I'm On My Way |
| | | (Gershwin / Gershwin) |
| Play | 10. | Someone To Watch Over Me |
| | | (Gershwin / Gershwin) |