Hybrid
This email address is being protected from spambots. You need JavaScript enabled to view it.


Angelo Verploegen - trumpet & flugel | Rolf Delfos - alt- & soprano saxophone | Barend Middelhoff - tenor saxophone | Erwin Hoorweg - piano | Marius Beets - bass | Bram Wijland - drums.


Recorded at Soetelieve Studios, 's Hertogenbosch, Holland
Recording date: 2 May 1994


The Houdini's are a spirited European sextet that play straight-ahead their own way. Sometimes they are quite respectful (as on the one non-original selection of the set, Billy Strayhorn's "Chelsea Bridge") and at other times they are wild in a manner not dissimilar to the Mingus Big Band (as on "La Grange Rouge"). Their musicianship is solid, the players are versatile, and they invigorate the hard bop jazz tradition. Trumpeter Angelo Verploegen and tenor saxophonist Barend Middelhoff are the key stars of this enjoyable set, which includes the catchy, stretched-out blues "No More Yesterdays" (worthy of Cannonball Adderley) in two versions and a rendition of "Entrada" that makes the group sound a bit like Art Blakey's Jazz Messengers. An enjoyable outing.


Scott Yanow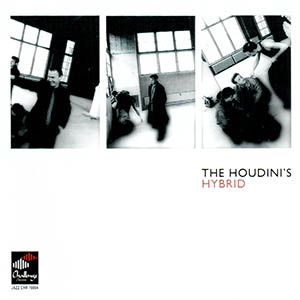 | | | |
| --- | --- | --- |
| Play | 1. | Hybird |
| | | (Hoorweg / Delfos) |
| Play | 2. | Tenor Sadness |
| | | (Delfos) |
| Play | 3. | Too Heavy to Carry |
| | | (Hoorweg / Delfos) |
| Play | 4. | Grange Rouge, La |
| | | (Beets) |
| Play | 5. | Chelsea Bridge |
| | | (Strayhorn / arr. Hoorweg) |
| Play | 6. | No More Yesterdays - (extended version) |
| | | (Hoorweg / Delfos) |
| Play | 7. | Entrada |
| | | (Middelhoff) |
| Play | 8. | Skywards |
| | | (Hoorweg) |
| Play | 9. | Don't Abuse Our Patience! |
| | | (Hoorweg / Delfos) |
| Play | 10. | Sancti et Houdinii |
| | | (Hoorweg / Delfos) |
| Play | 11. | No More Yesterdays |
| | | (Hoorweg / Delfos) |