Best of
This email address is being protected from spambots. You need JavaScript enabled to view it.


Angelo Verploegen - trumpet & flugel | Rolf Delfos - alt- & soprano saxophone | Barend Middelhoff - tenor saxophone | Erwin Hoorweg - piano | Marius Beets - bass | Bram Wijland - drums.


Recorded live at Kiama Jazz Festival 1996, Australia


This exciting Dutch band has been in existence for approximately 10 years and as the press release declares: "There is no sextet sounding more like a big band than The Houdini's". This statement could not be further from the truth. All of the excitement is captured "live" in Australia at the Kiama Jazz Festival in the midst of a seemingly exhaustive tour. "The Best Of" The Houdini's contains all originals except for Gershwin's "Gone" while the rip roaring sense of excitement and sheer energy conveyed serves as a testament to this band's capabilities and critically acclaimed status.


"Don't Abuse Our Patience" features tight, crisp horn arrangements and captivating charts as trumpeter Angelo Verploegen takes the helm with a big brassy sound that may lie somewhere between Doc Severinson and bop legend Fats Navarro. Pianist Erwin Hoorweg follows with a burning, swift paced piano solo as the audience seemed overwhelmed by the proceedings. A good time was had by all, which is quite evident here and throughout the album.


On "Too Heavy To Carry", Hoorweg performs lush, luminescent chord progressions on his piano which is complimented by pleasant horn charts while "No Sweat, Big Deal" is a mid-tempo swing where everyone gets a chance to stretch out. The boys show their goods here along with the usual precision and discipline of a well-rehearsed big band. Gershwin's "Gone" is tight as these lads experiment in different keys on top of Marius Beets vibrant walking bass line. Barend Middelhoff leads with an urgent and bop-ish tenor sax solo as the intensity and swing give way to a super charged drum solo by Bram Wijland. "Kickin' In The Frontwindow" is swinging and rambunctious while "No More Yesterdays" features up front Ray Charles-like horn arrangements and soulful soloing. At this juncture it is doubtful that the audience in attendance remained seated.
If you have not heard The Houdini's, then "Best Of" "live" may be a good place to start. Hold on, because this roller coaster ride lasts approximately 61 minutes as the sheer enjoyment and upbeat attitude is bound to grab your attention.

****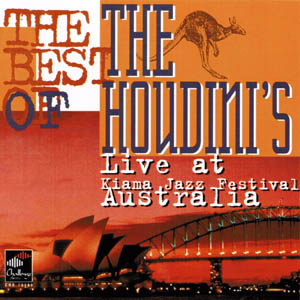 | | | |
| --- | --- | --- |
| Play | 1. | Headlines |
| | | (Hoorweg) |
| Play | 2. | Single Breath Orgy |
| | | (Delfos) |
| Play | 3. | Don't Abuse Our Patience |
| | | (Hoorweg / Delfos) |
| Play | 4. | Too Heavy To Carry |
| | | (Hoorweg / Delfos) |
| Play | 5. | No Sweat, Big Deal |
| | | (Verploegen) |
| Play | 6. | Bouncin' Mario |
| | | (Hoorweg) |
| Play | 7. | Gone |
| | | (Gershwin / arr. Beets) |
| Play | 8. | Kickin' In The Frontwindow |
| | | (Hoorweg / Delfos) |
| Play | 9. | No More Yesterdays |
| | | (Hoorweg / Delfos) |