CoOee
This email address is being protected from spambots. You need JavaScript enabled to view it.


Angelo Verploegen - trumpet & flugel | Rolf Delfos - alt- & soprano saxophone | Barend Middelhoff - tenor saxophone | Erwin Hoorweg - piano | Marius Beets - bass | Bram Wijland - drums.


Special guest: Jaap Blonk - vocal


Produced by: Jaap Blonk & Angelo Verploegen
Recorded at Muziekcentrum Vredenburg, Anton Philipszaal, Muziekcentrum Frits Philips, Holland
Recording date: 17/18 june 1996


COOEE is a native call, used by the Aboriginals, to draw each other attention. Inspired by their Australian tour of last year The Houdini's felt this a very useful title for their new CD. And with the release of COOEE, The Houdini's celebrated their 10th anniversary as a group. The Houdini's have consistently proven to be a very dynamic and solid ensemble. In almost every year of their existence they have gone into the studio to record a new CD. No CD became alike, although they always kept, and more than that, further developed the distinctive and much welcomed Houdini' sound. There is no sextet sounding more like a big band than The Houdini's.The Australian influences are not limited to the title alone. The pictures used for the cover and design show the Australian landscape in a very abstract form. They even play a typical Aboriginal instrument, the didgeridoo. In fact, this CD is meant to be retrospective. It is a step into the future to exploit the maturity of the groups musical gifts. Cooee is quite unlike the previous, more "traditionally focused" recordings The Houdini's. You'll find original compositions along with compositions by Ellington and Strayhorn. 'Take The A-Train' and 'In A Sentimental Mood' have been completely anatomized to be performed in what, according to what The Houdini's feel has been the essence of these pieces. In 'Breathing Out Of Habit' written by Michael Moore, drummer Bram Wijland shows he can do a lot more then simply swing. The very unique sound of the didgeridoo of Barend Middelhoff links the compositions 'Down Under' and 'Wrong Track' in a very special way. If you like to be surprised, this CD is not to be missed. Cooee really comes from 'Down Under'.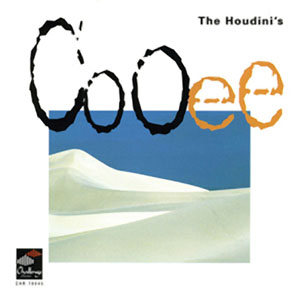 | | | |
| --- | --- | --- |
| Play | 1. | In a Sentimental Mood |
| | | (Ellington / arr. Hoorweg, Verploegen & Delfos) |
| Play | 2. | Breathing Out of Habit |
| | | (Moore) |
| Play | 3. | Obbele Boep 'M Pam |
| | | (Blonk) |
| Play | 4. | Take the "A" Train |
| | | (Strayhorn / arr. Hoorweg & Verploegen ) |
| Play | 5. | No Sweat, Big Deal |
| | | (Verploegen) |
| Play | 6. | Down Under |
| | | (Hoorweg / Delfos) |
| Play | 7. | Wrong Track |
| | | (Verploegen) |
| Play | 8. | Gibberish |
| | | (Midelhoff) |
| Play | 9. | Mood Indigo |
| | | (Ellington / arr. Moore) |