Chasin' the General
This email address is being protected from spambots. You need JavaScript enabled to view it.


Angelo Verploegen - trumpet & flugel | Rolf Delfos - alt- & soprano saxophone | Ilja Reijngoud - trombone | Erwin Hoorweg - piano | Marius Beets - bass | Bram Wijland - drums.


Produced by: Angelo Verploegen
Recorded by Wil Hesen at Farmsound Studio, Heelsum
Mastered by Chris Weeda. Recording date: 28 september 1999


Summer 2002 The Houdini's were invited by the Amsterdam Concertgebouw and the Film Museum to do a live performance with the 1927 silent movie The General by Buster Keaton. The initial idea was to have The Houdini's play the music originally written to this movie by Carl Davis in the twenties. However, since it was more than common inthose days to adjust possible live music performances to the means and line-ups available at the specific movie theatres, The Houdini's decided to provide the film with their own music for this occasion.


For their enterprising project, writing new music to be played with the film The General, piano player Erwin Hoorweg and saxophonist Rolf Delfos, let themselves be inspired by musical celebrities from the swing era. With those influences of by-gone days, The Houdini's make an appearance with this legendary classic of the silent film with impassioned compositions, correspondingly containing room for improvisationes.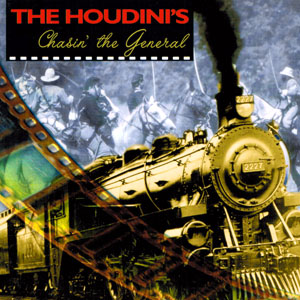 | | | |
| --- | --- | --- |
| Play | 1. | Chasin' The General I |
| | | (Hoorweg) |
| Play | 2. | Not Funny |
| | | (Hoorweg) |
| Play | 3. | Pour Vous Madame |
| | | (Hoorweg) |
| Play | 4. | Choosing Means Losing |
| | | (Hoorweg) |
| Play | 5. | Loco-motion |
| | | (Hoorweg) |
| Play | 6. | No Nonsense I |
| | | (Hoorweg) |
| Play | 7. | Chasin' The General II |
| | | (Hoorweg) |
| Play | 8. | Beets' Bridges and Changes |
| | | (Delfos) |
| Play | 9. | Mary Lou |
| | | (Hoorweg/Delfos) |
| Play | 10. | No Nonsense II |
| | | (Hoorweg/Delfos) |
| Play | 11. | Mr. Keaton |
| | | (Hoorweg) |
| Play | 12. | Old and Fashioned |
| | | (Hoorweg/Delfos) |
| Play | 13. | Soul Dust |
| | | (Hoorweg) |
| Play | 14. | No Nonsense III |
| | | (Hoorweg/Delfos) |
| Play | 15. | Chasin' The General III |
| | | (Hoorweg) |
| Play | 16. | Next Door To Alice |
| | | (Hoorweg) |
| Play | 17. | Chasin' The General IV |
| | | (Hoorweg) |