Headlines
This email address is being protected from spambots. You need JavaScript enabled to view it.


Angelo Verploegen - trumpet & flugel | Rolf Delfos - alt- & soprano saxophone | Boris Vanderlek - tenor saxophone | Erwin Hoorweg - piano | Marius Beets - bass | Bram Wijland - drums.


Produced by: Russ Musto
Recorded at: Rudy van Gelder Recording Studio, Englewood Cliffs, New Jersey, USA
Rec date: 3 December 1991


Headlines by Hoorweg opens the session straight ahead and burning like a Hank mobley romp and features Vanderlek. Orvathology by Delfos offers another groove and features Verploegen and Hoorweg.Gertrude's Favourite by Hoorweg is a pretty ballad with the piano and bassist Marius Beets playing the lead and Delfos soloing so lyrically. In The Situation by Beets is be-bop, very hard and stomping, with some classically growling tenor sax from Vanderlek. Hoorweg's Lullaby features Verploegen's beautiful fluegelhorn sound. Blue Ribbon Jury by Hoorweg re-creates the Blue Note feeling most of all, complete with Blakey-like rolls from drummer Bram Wijland, stop time for the bass with the horns harmonized like Hubbard/Fuller/Shorter, solos from Hoorweg and Beets. C.W., again by Hoorweg, spotlights the sound of Delfos' soprano with the subtle and supple swing of Wijland's drums. Eguchi by Delfos breaks free for Wijland and Verploegen. We Believed In Love by Berend van den Berg offers the very breathy balladeering of Vanderlek as if possessed by the spirit of Hawk. Hoorweg's Another Fawn offers a more 'contemporary' touch with a semi-samba and features Delfos. And the great finale, The Soulful Mr. Timmons by James Williams, comes from the Blakey bandbook and features some soulful exchanges between Delfos and Vanderlek.


Michael Bourne, Downbeat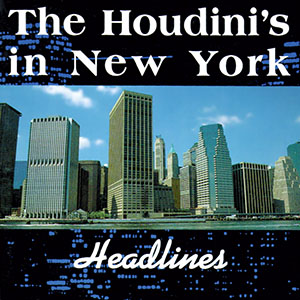 | | | |
| --- | --- | --- |
| Play | 1. | Headlines |
| | | (Hoorweg) |
| Play | 2. | Orvathology |
| | | (Delfos) |
| Play | 3. | Gertrude's Favourite |
| | | (Hoorweg) |
| Play | 4. | In The Situation |
| | | (Beets) |
| Play | 5. | Lullaby |
| | | (Hoorweg) |
| Play | 6. | Blue Ribbon Jury |
| | | (Hoorweg) |
| Play | 7. | C.W. |
| | | (Hoorweg) |
| Play | 8. | Eguchi |
| | | (Delfos) |
| Play | 9. | We Believed In Love |
| | | (v/d Berg) |
| Play | 10. | Another Fawn |
| | | (Hoorweg) |
| Play | 11. | The Soulful Mr. Timmons |
| | | (Williams) |